Kenya Secures Ksh36 Billion Loan to Spend on Uhuru's Pet Project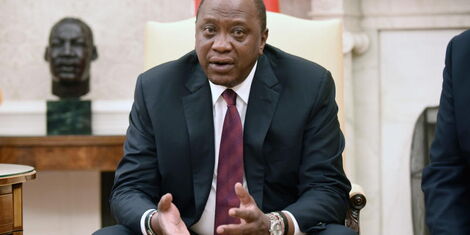 President Uhuru Kenyatta pictured at the Oval Office in the white House on August 28, 2018 TWITTER.
Germans were paid to use electricity, in Africa the same is scarce to millions of people and interrupted to those who can access
The Government of Kenya has signed a loan with the government of Japan to fund several of President Uhuru Kenyatta's key projects.In a statement released by the Cabinet Secretary for National Treasury and Planning Ukur Yattani, he announced that the government had taken a loan to a tune of Ksh36.139 billion.
"I appreciate on behalf of the Government of Kenya the continued development assistance that the Government of Japan has extended to Kenya since the beginning of bilateral cooperation in 1964."Today we signed a loan agreement for the Mombasa Special Economic Zone (SEZ) Development Project," Yattani announced on his social media pages.
He added that the loan would come in handy in boosting the manufacturing sector as well as in the creation of new jobs for Kenyan citizens.Yattani's sentiments were echoed by the Treasury Ministry which indicated that the loan would go towards servicing President Uhuru Kenyatta's Big 4 Agenda.
It also informed that the repayment period for the loan would be 28 years with an interest rate of 0.1 percent per anum.The Ministry further explained that the Japanese government gave the country a 12-year grace period before the repayment begins in 2032.
The debt situation in the country has been on the rise with most of the amount borrowed being used to fund development expenditure while bridging the budget deficit.According to data from the Central Bank of Kenya (CBK) in September 2019, the country's debt situation stood at Ksh2.85 trillion for public debt and Ksh3.1 trillion foreign debt.The Ksh5.97 trillion total debt was estimated to grow into Ksh6.5trillion by the end of 2019 after the Parliament voted to approve the raising of the debt ceiling to Ksh9 trillion.
In October, the World Bank warned Kenya against its borrowing spree citing that the country was moving towards debt distress owing to the government's appetite for expensive loans.